You are a busy parent. Despite the growing number of delivery services, doing your own grocery shopping makes sense for you and your family. However, having to go to the grocery store with your children in tow can be challenging. Why not make a trip to the grocery store easier for you and more fun for your children!
I often hear parents tell me that grocery shopping with their children is a struggle. Either the kids are bored, tired, or want foods they cannot eat. It becomes a race to see how quickly you can grab everything you need and get out of the store.
It does not have to be this way. The grocery store provides unlimited amounts of new and different vocabulary to introduce to your children. You can help your child build vocabulary by naming items as you walk by them, using descriptive words to talk about how the food looks (size, color, shape) or allowing your children to touch food and use new vocabulary to describe how it feels (cold, bumpy, soft).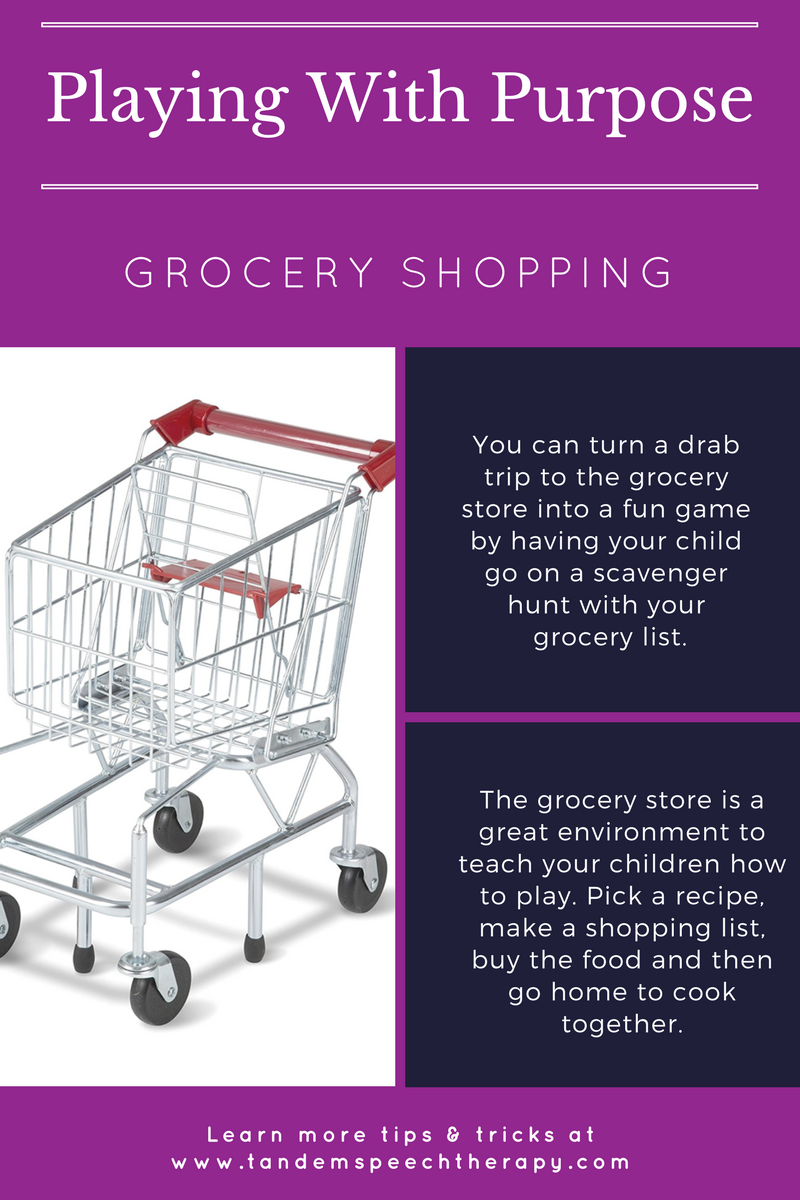 You can bring the grocery store home if your child has developed or is developing pretend play skills. Almost all of the activities I will describe below will work well with a set of pretend play food or a mini grocery store set. You can also buy a play cash register to teach your child money concepts and basic math operations such as counting and addition. If your child is apprehensive about an environment like the grocery store which can be loud, have bright lights, and lots of movement, then read a book to prepare them for what they may encounter. I love this Little Critter one from Mercer Mayer!
Turn your trip to the grocery store into a scavenger hunt. Now I am not suggesting you let your child roam the store by themselves. You can do this while they are sitting in the shopping cart or walking next to you. Give your child a short of list of things you need to buy and have them pick them out and cross them off the list as you go. You can add some listening and problem solving into the mix by giving them a direction. Try saying, "We need to buy fruit. Where do you think we would find it?"
Categories is a great skill to address in the grocery store. Encourage your child to find foods based on temperature, food group, color, and texture. You can work on auditory memory for categories by given them a direction such as, "Find 1 item that is red, 2 items that are cold, and 4 items that are crunchy." If your child is working with a pediatric speech therapist as has target speech sounds, have them find foods in the store that begin with their speech sound.
I Spy is another fun game to play while shopping at the grocery store and allows you to help your child improve their understanding of descriptive language and another way to address listening skills. Give your child 2-3 clues about your secret item and encourage them to guess what the item is. For example, you might say, "I spy something cold and sweet that we find in the freezer." Bonus if they get to pick out a special treat and take it home for their good work!
You can work on social communication at the grocery store by having your child practice greetings and asking questions to unfamiliar adults. When you get to the cashier, encourage your child to greet the person serving you. You can also model good social communication by demonstrating this–give good eye contact, say hello and ask the cashier how their day has been. If your child is a bit older, you can let them help with the transaction by asking the cashier questions. For instance, your child could ask, "How much do our groceries cost?" and then help you make the payment.
 I saved the best for last. Use your trip to the grocery store as an opportunity to introduce your child to cooking and nutrition by planning a snack together. There are fantastic cookbooks for children as well as tools to use in your kitchen. Pick out a recipe, have your child help you make the shopping list (they can practice their writing skills too), shop for the food items at the store, and go home to cook together. Following along with the recipe in the book will address following directions or receptive language. You can work on sequencing and recall by having your child describe to another family member the steps needed to make their treat.
Playing With Purpose does not have to be complicated. Hopefully, that next trip to the grocery store does not seem so daunting.
Be the 1st to Get Our Upcoming PWP eBook
Start Playing With Purpose
Learn how to purposefully and intentionally interact with your child during play and help them increase opportunities for speech and language development with our Playing with Purpose book!