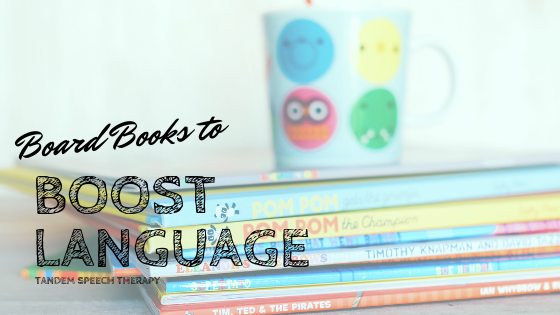 Reading is essential for all children. That is why books (especially board books) are the only item I ever buy as a gift for a young child or when a friend or family member has a baby. Children can build early literacy skills that directly correlate with later academic success when reading books. Board books that have simple sentences, a simple storyline, and include rhyme, rhythm, and repetition are the best, particularly for our little ones. And finally, book reading is a beautiful, shared activity to build a connection with your child.
Check out my favorite board books to boost language (Amazon affiliate links included) along with some basic tips on what you can highlight while reading.
Where is Baby's Belly Button? by Karen Katz
Lift-the-flap board books are great for development because they are interactive and add to your child's comprehension of new words. These types of books promote fine motor skills (i.e., using your fingers to open the flap) and also reinforce object permanence (i.e., the idea that just because you can't see an object does not mean it's not there). "Where Is Baby's Belly Button?" does all of these things, and also uses simple text to teach the words for body parts and common objects as well as the prepositions (i.e., location words) under and behind.
Mr. Brown Can Moo! Can You? by Dr. Seuss
This fun "book of noises" follows the celebrated imitator Mr. Brown as he struts through this story making all sorts of sounds. While not every page contains early developing consonant sounds like P, B, or M, children love to imitate Mr. Brown as he says "moo, buzz, pop, klopp, cock-a-doodle-doo, hoo hoo, dibble dopp, choo-choo, tick tock, knock knock, boom, and splat." The illustrations are classic Dr. Seuss, and keep a toddler visually entertained throughout the story.
Brown Bear, Brown Bear, What Do You See? by Eric Carle
Can I just say how much I adore this board book? It is one of my go-to 1st birthday gifts. You can't go wrong with Brown Bear: it teaches both colors and animal names. And the last page even introduces the concept of left-to-right progression (reading from left to right across the page, from the top of the page to the bottom). The simple text of this book makes it easy for pre-readers to easily predict the next rhyme and "read" along with you.
Do you have a favorite board book you read with your children? What skill does it teach or reinforce for them?
Get more tips for reading and other play skills
Start Playing With Purpose
Learn how to purposefully and intentionally interact with your child during play and help them increase opportunities for speech and language development with our Playing with Purpose book!