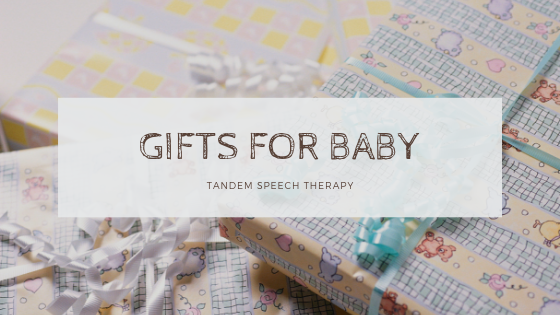 Our babies need interaction with people to learn language. So you are the most valuable gift regarding your baby's speech and language development. During that first year, we want to expose babies to multi-sensory experiences to encourage cognitive and pre-verbal skills as well as form strong bonds during play.
Here are my four favorite toys to support your baby's speech and language development.

(Amazon affiliate links included):
A Mirror
Babies love to look at themselves, at their reflection. Use a mirror like this Sassy Crib and Floor Mirror to model joint attention which is a crucial pre-verbal skill. Try looking in the mirror, then to your child, and back to the mirror. This is joint-attention–attending back-and-forth to 2 different objects/things.
Joint attention is an important preverbal skill we want to encourage in our babies. We use the skills as adults too. Think about how you multi-task or attend to your children playing while you are cooking dinner OR how you listen to an audio book while answering work emails.
Stacking Cups
Stacking/nesting cups or blocks are great for developing cognitive skills, motor skills, AND speech and language. Hide fun toys, like a small ball or plastic animal, under one of the larger cups and play a "where is it?" game. This will build your child's understanding of object permanence–when something disappears, it is not truly gone forever.
Check out my previous post for more tips on using stacking cups. They are great for babies at least 6 months old or who are sitting up on their own.
Shape Sorter
Your baby does not need to learn their shapes, numbers or letters yet! So use a shape sorter to build on fine motor skills and to learn the concept of prepositions or location words (i.e., in, on, under, out, next to). It will be a bonus if your child learns their shapes along the way. My favorite shape sorter is this Melissa & Doug Shape Sorting Cube. Truly I love all their toys and Melissa's mission to "take back play." Their toys all fall inline with my recommendation to ditch the batteries!
Books
Reading is essential for all children. Did you know that you can help your child build literacy skills early on that will directly correlate with later academic success? I like books with simple sentences, repetition, and that include rhythm and rhyme for our little ones. Use books to help your child like identify or point to pictures. Kids need to be able to identify (i.e., receptive language) an item before we can expect to hear them speak (i.e., expressive language) that same word.
Need more support for you and your baby?
Start Playing With Purpose
Learn how to purposefully and intentionally interact with your child during play and help them increase opportunities for speech and language development with our Playing with Purpose book!