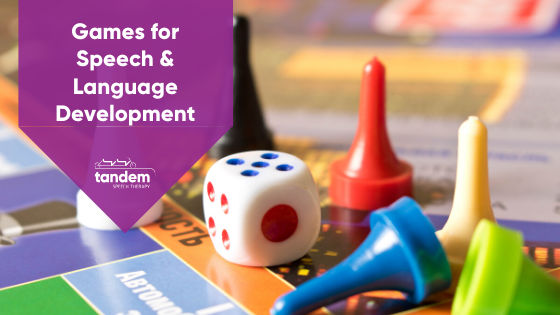 I've made a commitment to myself to play more games and board games with my speech therapy clients at the beginning of 2020. I find that more and more, kids are not playing games at home with their families so the use of games gives me maximum engagement. Many games also provide multiple opportunities for targeting goals with repetition and give me a chance to stimulate a child's speech and language skills.
Below is my list of 10 favorite or best board games to use in speech and language therapy or when Playing With Purpose with your child!
Affiliate Disclosure: I may earn an affiliate commission from the links on this page.
Favorite Games for Building Speech & Language Skills
Seek-a-Boo Game: 18 months +
A game for an 18-month-old, yes that's right! Did you know that when we engage kids in turn-taking activities, such as games, at an early age, we set the stage for them to take turns in conversations as they get older? Seek-a-Boo is a fun, movement-based game for our little ones that will not only support turn-taking but also help them expand their vocabulary, learn to match, and build memory skills. I love the high-quality photographs and durable cards. You can even use the images with other toys and activities to help with the carryover of new vocabulary words. I was first introduced to this game when a client's family bought it for his birthday. We found tons of ways to play and re-use the images for multiple learning opportunities. 
Where's Bear? The Hide and Find Stacking Block Game: Ages 2+
Another fantastic option for our little ones. Where's Bear? combines block-building fun with a hide-and-seek component that is certain to be engaging for all. To play you take turns hiding and finding Bear under the boxes which each illustrates the rooms in Bear's house. Plus includes a matching game! Kids can learn to understand object permanence, build problem-solving skills, develop their fine motor skills, use/learn spacial concepts such as up, down, top, bottom, plus get an early understanding of sorting, classifying, and matching. And, as mentioned with our game above, we can begin to support turn-taking skills which is incredibly valuable.
Frankie's Food Truck Fiasco Game: Ages 4+
If you are familiar with the popular, Sneaky Snacky Squirrel Game, then you will love this game featuring Frankie the cat. Like the other 3 games in this series from Educational Insights, Frankie's Food Truck Fiasco comes with a 'Frankie Squeezer' which will help our kids with fine motor skills (i.e., grasp for pre-writing). Frankie's features shape matching with lots of fun food to describe and discuss. I've also used the food pictures from this game to play a memory-based game where we pack a picnic basket and have to remember all the items inside. Another way to build memory skills with a simple game like this or many others is to have one child teach another how to play. This will not only build their social skills and sentence formulation but they'll have fun playing an engaging game while doing so.
Where is Howie's Owie?: Ages 3+
If you love the Usborne book, All Better, then you'll love pairing it up with this game Where is Howie's Owie? Or if you're using Howie to help a child label or identify body parts, then try pairing him up with my favorite Mr./Mrs. Potato Head to generalize the skill. The game comes with a magnetic, 2-side easel, and multi-color bandages. One side features Howie in his bathing suit on the beach and the reverse side has write & wipe fill-in-the-blank lines for labeling. Howie is fun for supporting kids in building their following directions skills and preposition vocabulary. And I like using him with groups of children. The kids can take turns giving each other directions on where to place the bandages to not only support turn-taking but sentence formulation.
Scattergories Game: Ages 13+
Despite the box recommending this game for children aged 13 and up, I have played Scattergories with many of my elementary-aged kiddos. I just leave the timer out, unless I am trying to see how many items they can name to a category in 1 minute. Kids are always intrigued with this many-sided die that has the letters of the alphabet. There is also a newer version of this game called Scattergories Categories in which the kids name as many items to a given category as they can in the allotted time. In addition to category work and naming, if you've got elementary-aged kids addressing spelling and/or phonics, this is sure to be a winner!
Guess Who?: Ages 6+
Guess Who? reminds me of playing 20 questions while on road trips with my friends, to pass the time in the car. This game is a big hit with kids who need to build their speech and language skills for describing items or people using more attributes. In this same vein, Guess Who? is good for comparing/contrasting, expanding MLU and makes an excellent companion to your EET. There are many free and paid resources on Teachers Pay Teachers if your kids need visual support for asking the yes/no questions which are a key component of the game.
No matter what you use, board games and card games are great tools for facilitating the development of speech and language skills. They support kids in building turn-taking, eye contact, MLU, vocabulary, following directions and so much more. If you have a favorite game to use in speech therapy or with your children at home, send me an email–I'm always looking for new ideas!
Start Playing With Purpose
Learn how to purposefully and intentionally interact with your child during play and help them increase opportunities for speech and language development with our Playing with Purpose book!