I am going to make a bold statement. Play is ESSENTIAL to the growth and development of your child. From a young age, play is your child's occupation. Play promotes creativity and problem-solving, develops resilience and grit, and builds social and cognitive skills including, speech and language development. When you engage in outdoor play with your kids, you foster growth, development, and exposure to a multitude of new experiences.
I learned more about the importance of outdoor play from a new friend and mompreneur, Sara H, who teaches a program called Tinkergarten. In short, "Tinkergarten provides high-quality early childhood learning in the healthiest classroom of all—the outdoors. Families connect with trained leaders in their local community for play-based kids classes that help develop core life skills, all while having fun!" This fits perfectly with the mission of Playing With Purpose. Children and parents are learning and growing during meaningful outdoor play. I am also enthusiastic that Tinkergarten lessons incorporate vocabulary development and social skills.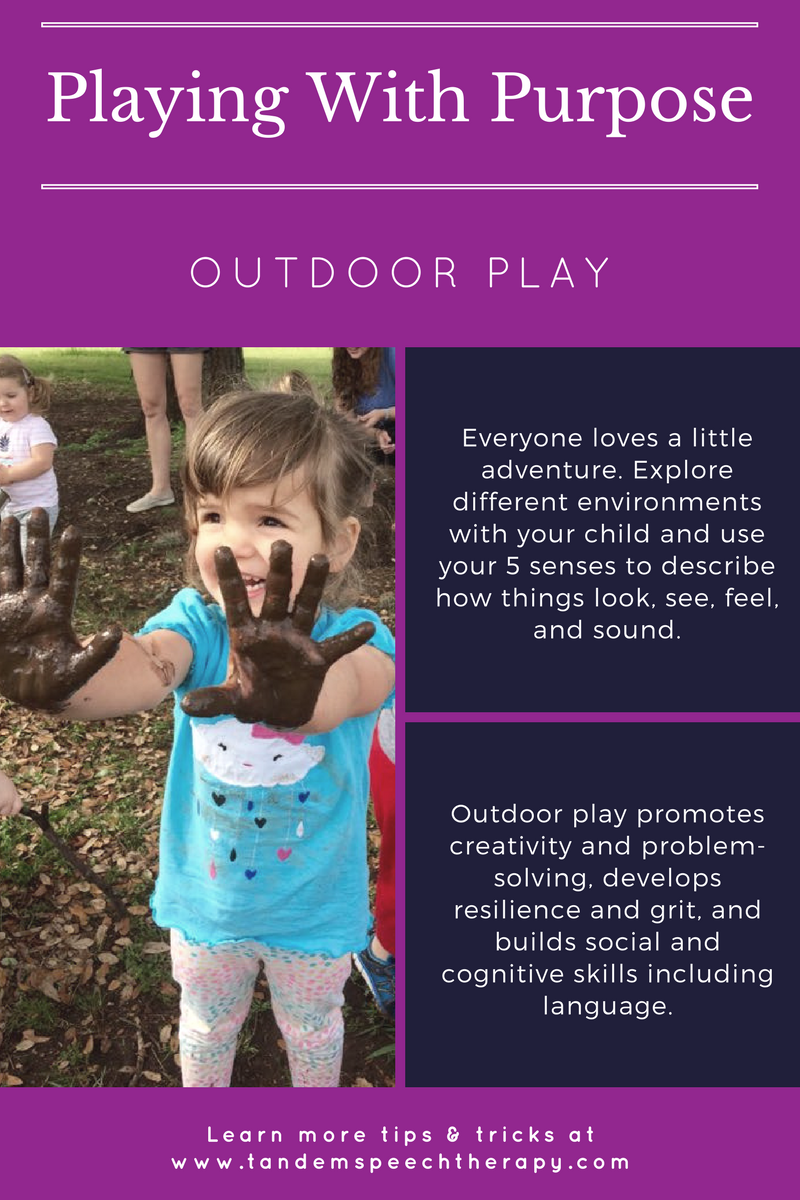 Outdoor play is a cost-free language tool. Simply head out to the park, walk down the street in your neighborhood, take a hike in the greenbelt, or step into your backyard. A host of opportunities is at your disposal.
If you are interested in sprucing up your outdoor play a bit, be mindful of the toys you choose. My general rules of thumb when selecting toys for kids include:
Pick toys where your child does the work such as a set of buckets and shovels.
Buy toys without batteries like a sandbox or a water table.
Don't be afraid to get down and play like a child. Be creative. Get dirty. Have fun!
Melissa Bernstein, co-founder of the toy company Melissa & Doug, is on a mission to Take Back Childhood. I fully support this mission. Outdoor play is a great place to start. Outdoor play provides time for imagination and wonder.
Encourage sensory play where you and your toddler describe what you see, feel, hear, taste and smell. This is a great activity for vocabulary building. Try hiding items in your sandbox or sand bin; then help your tot describe what he has found. You can also use this activity to talk about the sand. Explore how it feels, looks and even sounds as you move it around with your hands. Use sensory words during any play to provide your child exposure to new words. This will, in turn, give them many more descriptive words to use.
A nature walk provides an environment to work on categories. Get 2 paper bags. The ones from the grocery store, with handles, are perfect and you don't have to buy anything extra. They will be easy for you and your children to carry around as you explore your backyard, a nature trail, or the park. Then choose two different groups or ways to sort the items you find. Some suggestions are: hard vs. soft, green vs. brown, and heavy vs. light. Again categories also help build vocabulary.
The playground or playscape at your neighborhood park is a fantastic location to build an outdoor obstacle course. Adding movement to your child's play also promotes multi-sensory learning. Choose 3-5 activities and tell your child the sequence. This will encourage skills such as following directions, sequencing, listening, and auditory memory. An example is, "Go down the slide, walk under the swing, and then jump 2 times next to the ladder." If your child has difficulty remembering the steps, then model the sequence for him and see if he can follow the routine. After your child has completed the obstacle course, have her retell/recall the steps to build her expressive language.
Plan a fun outing and record the day in a scrapbook. You could visit the zoo or walk in the greenbelt. Take digital pictures of the outing, and print them off. Then help your child build a construction-paper scrapbook (i.e., staple a few pages of paper together and glue in the pictures) to remember the day. Guide your child as they sequence the pictures in order ("What did we do first?") and tell you about each picture. You can ask him/her wh-questions (i.e., "Where did we go?" or "Who went to the zoo?") to help recall the details.  Afterwards, encourage your child to share or "read" their book with family and friends!
While playing with water is not exclusively an outdoor play activity, I think parents prefer messy play outdoors. You can also use abstract language that will stimulate your child's thinking when playing with water. For example, you can use language to pretend, such as "Let's pretend this bowl is a pirate ship, looking for treasure!" Together you can hypothesize and predict, thinking about which objects will sink or float before you place them in the water. Sink or float is a fun game I play with children who have trouble with their S sound too.
Living in Austin, TX I am afforded ample time to get out and engage in outdoor play. If you live in a cooler climate or have a rainy day, all of these activities can be adapted to play indoors. Now it's time to get out and play with purpose!
Be the 1st to Get Our Upcoming PWP eBook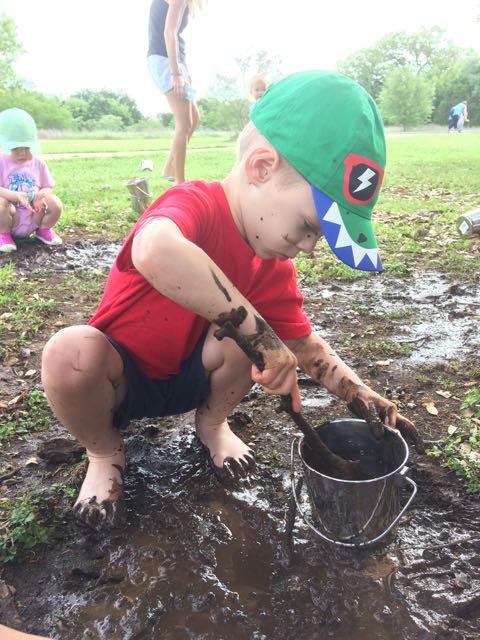 Start Playing With Purpose
Learn how to purposefully and intentionally interact with your child during play and help them increase opportunities for speech and language development with our Playing with Purpose book!