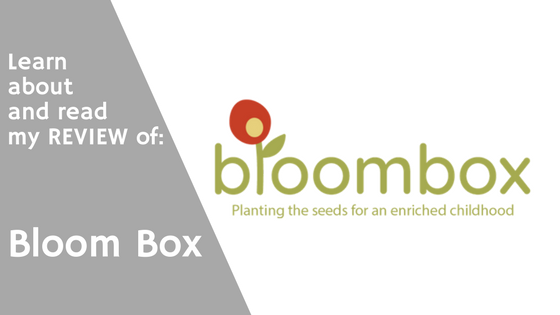 Starting my pediatric speech therapy practice has been both exciting and challenging. I have been fortunate to have a lot of support from my network as well as a fantastic Facebook group for other independent clinicians. That's where I first learned about Bloom Box. The company was founded by a fellow speech-language pathologist and blogger, The Speech Mom. The idea sparked out of Andee's quest, as both an SLP and a mom, to find toys that "inspired all areas of child development." Similar to my inspiration to begin the Playing With Purpose series, we want to provide families with opportunities to "encourage natural and child-led language development."
I got to play with my Bloom Box with a cool kiddo named Jack. Jack's mom Adriana is the beautiful voice of Jack's Mom in Austin. For reference, Jack is a typically developing 3-year-old. In fact, he has phenomenal speech and language skills. He is curious, interactive and was the perfect addition to this review post. Be sure to read all the way to the bottom of this post for a generous offer from Bloom Box!
Overview:
Bloom Box is an educational play, subscription service. Each month you are subscribed, you will receive a themed box at your doorstep full of toys along with an activity guide to help target your child's development. The boxes will encourage your child's development in five critical areas: language, cognition, social, fine motor, and sensory. After you've played with your Bloom Box for a month, package everything back up and return it along with the prepaid shipping label.

Each Box Contains:
Strategically selected toys and activities to enhance your child's development
Activities targeting sensory and fine motor development
Plans for language enrichment during your child-led play
Themed tools and toys to maximize generalization of skills
An activity guide with step-by-step instruction for language enhancement (i.e. Playing With Purpose)
Our Bloom Box: Magnificent Monsters:
Jack and I played with the Magnificent Monsters Bloom Box. Our Bloom Box is designed for children aged 3 to 7 years old. It came with seven different themed toys and 10-15 activity guides. Each guide included detailed, step-by-step instructions for language enhancement. The guide is divided up into two sections based on your child's current level of development. There are instructions for children who are 'New Talkers' and for children who are 'Next Steppers.'
Since much like the Bloom Box team, I believe in child-led play, Jack and I did not explore all the elements included in our box. As you watch the video below you can probably see which toys we enjoyed playing with the most. My favorite, by far, was the Monster Counting Puzzles. We also really enjoyed getting our hands in the mix and playing with the Mad Matter; an activity that was new to me, but much like kinetic sand or Play Doh.
If monsters do not peak you or your child's interest, Bloom Box currently offers 14 themed boxes. Next on my list to try are Camping Adventures, Birthday Party, and Vegetable Garden.
Watch
Jack and Me
Play With Our
Bloom Box
My Opinion:
I've been reading about toy rotations lately, and I think that Bloom Box is the perfect tool to help you, busy parents. In their FAQs, Bloom Box states, "Research indicates that following approximately 4 weeks of play, children become over or under stimulated with their toys.  By providing a fresh batch of developmentally appropriate toys every four weeks, we are challenging your child to learn new skills while carrying over previously learned skills into new situations with new toys and play scenarios." The toys Bloom Box provided were clean, unique and engaging. I like how the activity guides provided instructions for 2 different levels of a child's speech development. I think a Bloom Box subscription would be a great gift for the kiddo you know that has "everything."
There are a few areas I would suggest for improvement. The quality of the photographs that came with 2 of the activities is lacking. The images were unclear and the paper a bit flimsy–a child could easily and accidentally tear or damage them. I would like to see the activity guides bound into some kind of book format so the laminated papers do not get lost. While I appreciate how the guides were broken down into 2 different levels of speech development, I think a more in-depth explanation would be beneficial to parents who don't have a pediatric speech therapy background like myself or the Bloom Box founder.
Overall, it's a top-notch product that I would recommend. But don't just take it from me as a professional…subscribe and try a box!
"Bloom box is a concept I could get behind. The toys were engaging and it was clear that my three year old loved playing with them. A huge plus for me was that all the toys are "imagination" toys and don't require batteries. It's the perfect opportunity to play with your kids while encouraging learning and bonding."
Use JACK15 to receive $15 off your order
Full disclosure, Bloom Box provided me with one of their toy boxes, at no charge, upon my request. They did not solicit this review or my opinions.
Learn More About Playing With Purpose
Start Playing With Purpose
Learn how to purposefully and intentionally interact with your child during play and help them increase opportunities for speech and language development with our Playing with Purpose book!