Blocks come in all shapes and size. There are cardboard blocks, wooden blocks, and colored blocks. You can make blocks from old Tupperware or turn an Amazon box into a block shape sorter. There are brands such as Lincoln Logs, Legos, and Topamino. Just like there are many types of blocks, there are many ways you can use your blocks for Playing With Purpose.
Here are just some of the language, cognitive and other skills that your children can learn by playing with blocks:
Preposition concepts such as on, under, next to, in front, behind, top, bottom, on, off, and between
Color and shape concepts

Letter and Number concepts (if you are using blocks with letters/numbers)

Size concepts and c

ounting skills

Problem-solving skills (i.e., How to create a stable tower that won't fall down)

Hand-eye coordination, fine motor skills, and visual processing

Cause and effect relationships

Sharing, cooperation, problem-solving skills and more while building blocks friends

Math and science principals like gravity and balance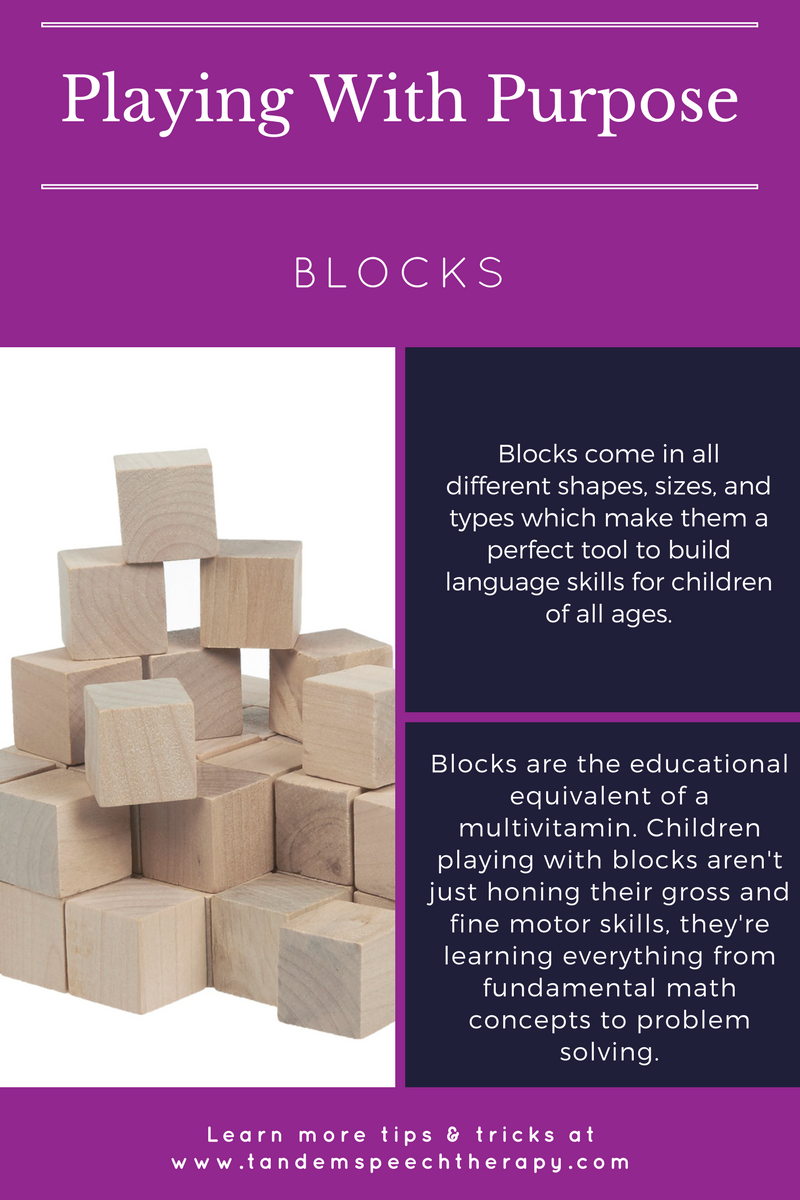 Some food for thought! Plain blocks are my favorite to use with the younger children I work with. Not the blocks that usually have letters and numbers on them, the ones with the ABCs and 123s. They are not great for our little ones learning to use and build early language. Many adults will go straight to trying to teach letters and numbers to children who are not developmentally ready to learn that information. Until a child has a well-established spontaneous vocabulary of at least 50 words, we don't even want to think about those kinds of concepts. We want to save those ideas for later when after a child has learned other words he/she can use in everyday life.
Top 5 Tips for
Playing With Purpose

Using Blocks
Blocks can be combined with another toy set and used for symbolic play. Symbolic play is the ability to use objects, actions or ideas to represent other objects, actions, or ideas in play. For example, a child may push a block around the floor as a car or put it to his ear as a cell phone. If your child uses his/her blocks to build a house, then grab some of their favorite characters or action figures and let them play in the house. You'll also be helping your child develop their pretend play skills.
For very young children, you can use blocks for container play. Start with an empty diaper wipes container, the type that has a lid that pops open. Fill up the box with some blocks. Then your child can reach their hand in and pull the blocks out. Or if the box is empty your child can place the blocks inside the box. This would be an excellent play routine to model the prepositions "out and in." Container play is also useful for teaching your child object permanence (i.e., the idea that an object exists even when it's been placed out of sight), cause and effect like those fun toys with the pop-up doors, and problem-solving for those blocks that are tricky to take out or put in.
Assuming your child is of an appropriate age, then, of course, you can use colored letter blocks to teach cognitive skills such as the alphabet or color names. Most children begin recognizing some letters between the ages of 2 and 3 and can identify most letters between 4 and 5. Your child's ability to know different colors starts around 18 months, the same time he/she begins to notice similarities and differences in shape, size, and texture. But it will be a while longer before they can name the colors; most children can label at least one color by age 3. You can continue to use these blocks are your child's literacy skills grow. Use the letter blocks to build words, to help your child sound out simple consonant-vowel-consonant words (i.e., cat, mom, cup), to work on word families and even practice spelling as they get to elementary school.
Legos or magnetic blocks are fun types of blocks to work on following directions with your older children. I've given tips in other PWP posts for following directions, but this suggestion is a bit different as it utilizes pictures. Either use the step-by-step photos that would be included in the toy's manual or draw a photo yourself. Let your child build the object in the photo by following the visual directions. Then, either have him/her give you instructions to make your own, identical object or describe their process of building.
One of my favorite games to play with children working to improve their speech sounds in Jenga. If you're struggling with your child to complete their speech therapy homework this will be a fun idea! Take your Jenga blocks and write, with permanent marker, different numbers on each block. Just put one number on each block. My set has primarily 2 through 5 written on each block with a few zingers like numbers 7-10 and a fun FREE block. Use your provided word list to practice the speech sounds in words, phrases, or sentences as you play. For example, if your child draws a block with the 4 then they practice 4 words or sentences.
Blocks are not just for building, they are for building speech and language skills. Time to get out and start Playing With Purpose!
Want to learn more strategies for playing with blocks with your child?
Start Playing With Purpose
Learn how to purposefully and intentionally interact with your child during play and help them increase opportunities for speech and language development with our Playing with Purpose book!