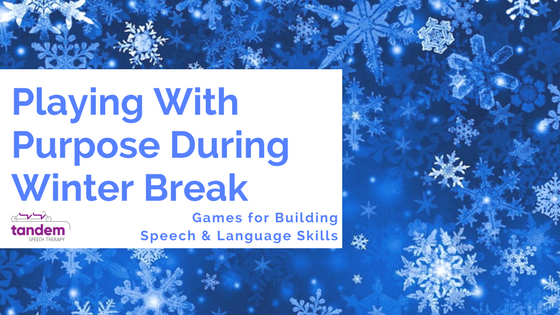 We are quickly approaching the time of year that children love. Along with the holidays comes winter break. While a great time for family bonding, winter break can be a challenge for parents to find indoor activities for the whole family and sneak in some learning. However, it is possible to learn and have fun doing so if you are Playing With Purpose during winter break. Here are some games that you can play with your kids that are also great for building speech, language, and listening skills.
FREE GAMES:
1. Build an Obstacle Course
Kids love this activity, and as a bonus, you will combine gross motor skills with language learning for a multi-sensory experience. 
Start with a course that is 3-5 steps first and then increase the complexity as your child's skills develop.

To work on their listening skills, give your child directions on how to go through the obstacle course and see if they can execute the steps.
If following the instructions is a challenge for your child, first give him the directions and then have him immediately repeat them. This will build memory and recall which will make the execution step less difficult.
2. Play Frosty Says
Frosty Says is the same as the game you played as a child, "Simon Says," but puts a wintery spin on the activity. This game is all about listening and following directions too.
When you're playing for the first time, you may want to give your child the direction and then show her what you want her to do. This visual cue will be helpful, especially as you increase the complexity of your instructions.

Only give directions your child can follow. Start with one part–jump, turn around, touch your toes. Once she has mastered a one-step direction such as "jump," you can move on to a two-step direction like "jump and then clap your hands."
STORE-BOUGHT GAMES:
I love this game because it builds memory, descriptive language, deductive reasoning, and works on answering questions accurately. The 'Dr. Seuss What's in the Cat's Hat?' game can be played with a fun winter twist by adding your own items from home to the hat. Think about incorporating things like hats, gloves, and winter-themed toys or decorations.
For your older children, this is an excellent choice. Headbanz also works on using descriptive vocabulary and build deductive reasoning skills plus listening comprehension. To make this game more wintery, make your own winter cards by printing out images you found online or in all those holiday catalogs you get in the mail. Then cut and glue the pictures to a 3×5 card so they stay up in the headband.
Want to learn more strategies for playing with your children during winter break?
Start Playing With Purpose
Learn how to purposefully and intentionally interact with your child during play and help them increase opportunities for speech and language development with our Playing with Purpose book!