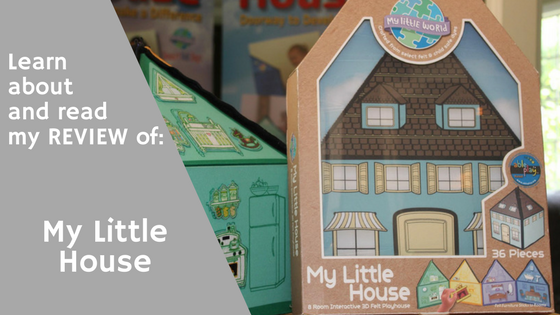 I am continually amazed at the work of my speech-language pathologist colleagues. They work tirelessly to ensure a quality of life for multitudes of people with communication challenges and differences. My role and work as a pediatric SLP has taught me the importance of play in the life of a child. It is their occupation; their means of interacting with and learning about the world. So when the world of speech-language pathology and toy development intersect, we get great products like My Little House from Smart Felt Toys.
My Little House was created by speech-language pathologist Yvonne Johansen. In her 20+ years as an SLP, she saw a growing need for toys that "not only help lay the foundation for early language skills but also engage kids in a fun way." Similar to my inspiration to begin the Playing With Purpose series, we want to provide families and other pediatric speech-language pathologists opportunities to connect during play in ways that are functional, provide opportunities to grow and develop language skills, and have fun. I am very excited to share this exceptional toy with you all today. Be sure to read all the way to the bottom of this post for a generous offer from Smart Felt Toys!
Overview:
My Little House is a multi-sensory, 3-dimensional toy house designed to develop and teach both receptive and expressive language. It promotes essential social and emotional skills such as cooperative play, self-regulation, self-awareness, independence, and self-esteem. Additionally, My Little House facilitates pretend play and, the all important, use of imagination. Your My Little House comes with 36 felt pieces, each placed with purpose and intention within the toy. The four panels of the house have velcro along the sides and the top so that children can put the house together by themselves. My Little House is very portable and great for group or individual play.

Each MLH Comes With:
A carry box to store your house and it's felt pieces
A pamphlet with an overview of all the concepts and skills you can address in play
The house which can be laid flat like a book or built to be 3D
36 matching felt pieces, each designed with a specific purpose to enhance language skills
Receptive Language Concepts:
Vocabulary – introduce new words and meaning of words
Grammar  – learn how to appropriately put words and phrases together to form sentences
Spatial/Location Concepts – prepositions acquired early such as on/under and in/out
Temporal Concepts – relating to time such as first, then, last
Quantity Concepts  – parts, pieces, and accessories such as empty/full, all, some
Descriptive Concepts – colors, shapes, and sizes such as big/little, tall/short
Expressive Language Concepts:
Description – kids can share and tell others what they find/see
Narration – create or retell a story and share ideas with others
Discourse – skills like explanation and persuasion to expand conversation
Take a
Tour of
My Little House
<iframe width="560" height="315" src="https://www.youtube.com/embed/pFQfA5Aeoxc" frameborder="0" allow="autoplay; encrypted-media" allowfullscreen></iframe>
My Opinion:
As a pediatric speech therapist who travels to see children in their homes, My Little House is the perfect companion. One day last week I saw five different children, all who have different therapy goals, and the only toy I brought along was MLH. I worked on following directions, basic concepts, asking and answering questions, storytelling, categories, and even used the house as a motivator/reward during speech sound practice.
I think my favorite component of this toy is the language rich opportunities it provides all within the context of play.  I also enjoy the multi-sensory nature of My Little House. It allowed the children I was working with to get in on the action and create not only with their minds but with their hands. In one session, I placed a bunch of the felt pieces around the child's family room, gave descriptions of the items (i.e., "Go find some that is cold where we store food."), and the little girl walked around looking for the piece I described. She then got to put it in her house. This activity was a great way to get her body moving and thus maintain her attention. I am pretty convinced she didn't even realize we were "working"– a bonus!
There are a few areas I would suggest for improvement. In initially building and playing with my My Little House, I often had trouble getting the felt pieces to stick to the house. Any little bump to the toy during play and they all fell to the floor. I should add that in talking to someone from Smart Felt Toys, I was told they are using a new manufacturer, and the updated version of MLH will include more colorful felt that is softer and stickier. Staying organized is vital for us traveling SLPs and parents, so a small addition I would love to see is a bag to store all the felt pieces.
My last recommendation is more detailed instructions, beyond the included pamphlet and website. As an SLP who has been practicing for 10+ years, I have a toolbox full of strategies and ideas I can access all the time. There are endless possibilities and applications for play and learning using My Little House. However, since I believe MLH would be great for parents, caregivers, preschools, and new or less experienced pediatric SLPs providing concrete directions or ideas on how to use the MLH for specific language targets would be another bonus. Essentially more step-by-step instructions would be beneficial. I think it could take many forms like a more extensive booklet in the toy box or could be an additional page on the Smart Felt Toys website.
Overall, it's a top-notch toy that I would highly recommend and comes at a very reasonable price point given the breadth of usage. But don't just take it from me as a professional…buy your own and get Playing With Purpose!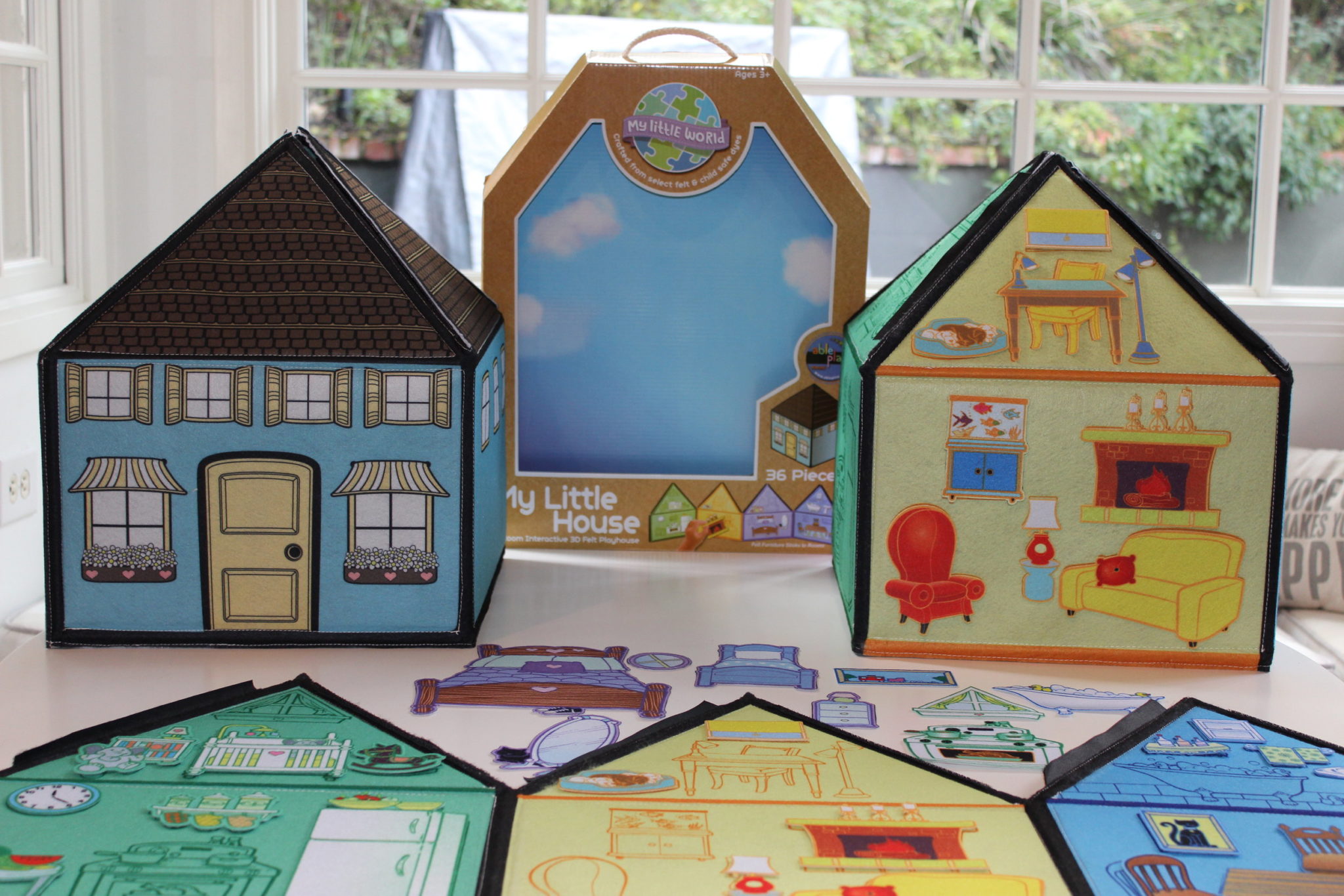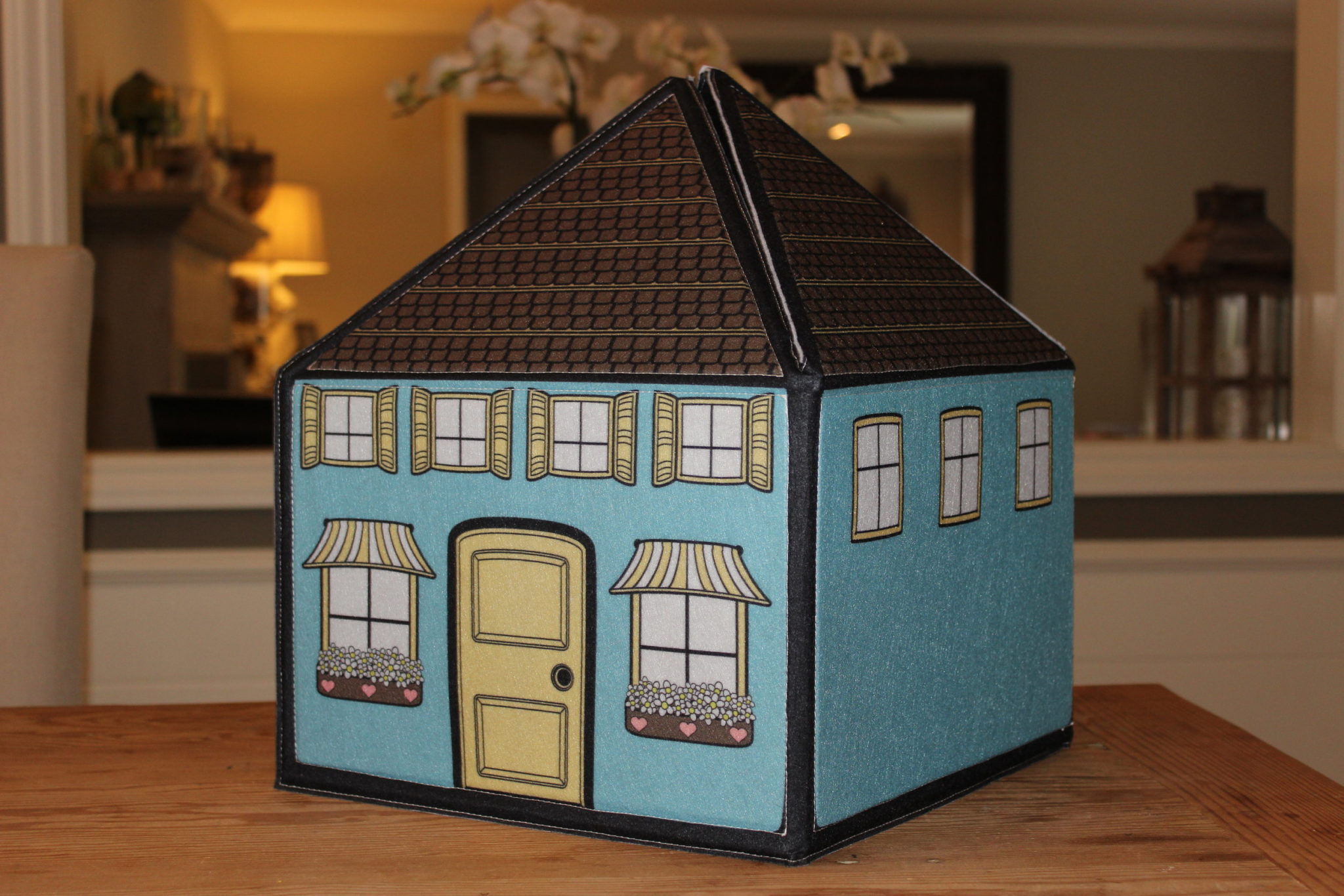 Use TANDEM to receive 15% off
Full disclosure, Smart Felt Toys provided me with their My Little House, at no charge, upon my request. They did not solicit this review or my opinions.
Learn More About Playing With Purpose
Start Playing With Purpose
Learn how to purposefully and intentionally interact with your child during play and help them increase opportunities for speech and language development with our Playing with Purpose book!