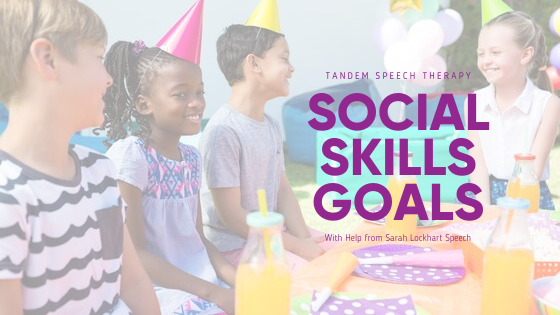 There are many different areas of speech and language development we work on as SLPs. In my work, I see many children with needs in building their expressive language skills and speech sound production. But SLPs work on receptive language, social language (aka pragmatic language), feeding/swallowing, childhood apraxia of speech and more.
I do not do a lot of work on social skills in my private practice. For one thing, there are a few centers here in Austin and some of the private clinics that specialize in this area of speech therapy. Second, I believe that kids should be working on their pragmatic language skills with other children–not just me in an isolated, unrealistic scenario. But for the first time since opening my practice, I have an opportunity to work on social skills with a child I see at their school.
As my colleague Sarah Lockhart, MS, CCC-SLP shares, "Social skills goals are not easy to write." And if you are like me, and do not do this often, it's even harder! Which led me to do research and read a lot about writing this type of goal. There is no right or wrong way to write pragmatic language goals.
In a post I found incredibly useful, Sarah goes on to share, "I remember starting out as an SLP and being stumped by social skills goals. Making goals specific, measurable, and big enough to track across a year…well, it wasn't easy! Because of this, I'm sharing the goals I now use in this post."
Click the button below to keep reading on Sarah's blog and get some wonderful examples of social skills goals to guide you when you need to write your own.
I hope you found Sarah's post informative and helpful!
Are you in Austin and need to support for your child's social skills?
Start Playing With Purpose
Learn how to purposefully and intentionally interact with your child during play and help them increase opportunities for speech and language development with our Playing with Purpose book!