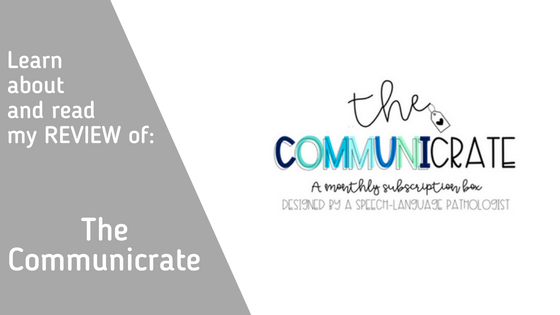 How valuable is your time? Really think about this question. You are a busy pediatric speech-language pathologist, a parent, an educator, a caregiver and you spend hours of your time in the service of others. In addition to your hectic work schedule, you may come home in the evening and want to cook dinner, take care of household chores, plan lessons for your clients, and prepare materials. So when is there time for self-care or "you time"? That's where The Communicrate, a monthly subscription service, steps in! Each month you will receive themed and hand-designed resources, developed by fellow SLP Kristin Weingart, to promote speech, language, and literacy development. Kristin shares that she created The Communicrate so she, "could free up your planning and give you that extra time at home with your loved ones. [In order to] allow you to feel prepared and not guilty as you try to balance all of your roles!"
Overview of The Communicrate:
The Communicrate was designed with speech-language pathologists, educators, and parents in mind. It's a resource to save you time and decrease mundane learning or complacency. If you are anything like me, then I am sure you have printed out resources, in a pile on your desk, waiting to be prepped for treatment. Kristin has done all the work for you with The Communicate. Your materials come ready to use, the moment you open the box.
The Communicrate was intended for use primarily with younger children, ages pre-K through 4th grade. However, some of the activities could be applied to middle school-aged kids. Another great feature of the crate is that it is available at three different price points to meet a variety of budget needs. The biggest difference between the crates is the number of materials in each crate. The itemized list of everything included in each crate can be found at www.thecommunicrate.com. Additionally, you can save by subscribing. The Communicrate can be purchased for an individual month, a 3-month package, a 6-month package (save 5%), a 9-month package (save 10%), and a 12-month package (save 15%).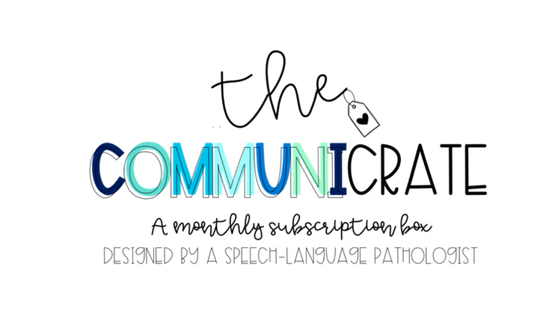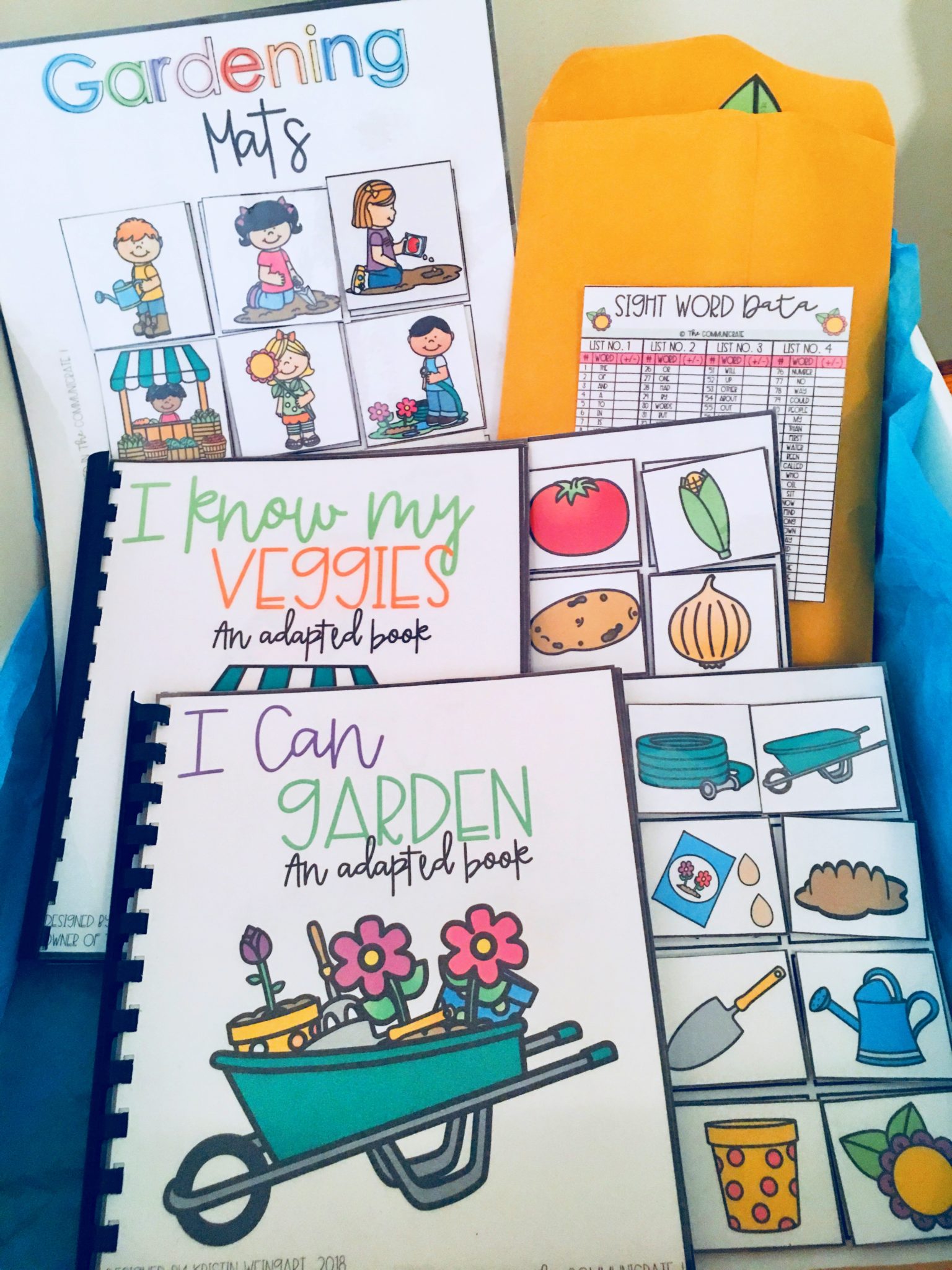 How The Communicrate Works:
Visit www.thecommunicrate.com, where you can hear a brief introduction to The Communicrate with a video from the creator and SLP behind the crates. This is where you go to order your crate.
Orders must be placed by the last day of the month (i.e., subscribe by July 31st for August).
Decide on the subscription that is right for you based on your monthly budget and what materials you need in your resource library
Then pick your subscription type: monthly, 3 month, 6 month, 9 month, 12 month or simply 1 crate at a time
Place your order!!
Your crate will be received in the last week of the month (i.e., the August crate will come the last week of the month).
<iframe width="560" height="315" src="https://www.youtube.com/embed/HQm6-hgOv3Y" frameborder="0" allow="autoplay; encrypted-media" allowfullscreen></iframe>
My Opinion:
One of the most challenging components of doing speech therapy day after day is keeping my sessions fresh and exciting. Not just for me, but for my clients. And in all honesty, there are days and even weeks where I do not have the energy for planning. The past three weeks, The Communicrate has been my savior. The temperatures are over 100 here in Austin, and the kids just wrapped up the school year–we all needed a change of pace. Again, The Communicrate delivered and has scored major points with me and my kiddos.
Kristin sent me her May, garden-themed crate. My favorite, and most used, components of this crate were the adapted vocabulary books, the "I'm working for" behavioral support, and the EET (i.e., Expanding Expression Tool) companion sheet which I paired with the vocabulary ring. The adapted vocabulary book for addressing pronouns has been particularly useful as I have a few preschool-aged kids who have been working on this skill for some time. I love that the books are interactive–the child has an opportunity to move the pictures around and match which adds to their level of engagement. This pronoun book also comes with pacing dots below the words to help the child "read." They can practice using pronouns correctly to describe pictures on each page. You can see a photo of my client reading a page in the book on my Instagram page from last week.
The materials you receive when you subscribe to The Communicrate are total perfection. Kristin thought through every detail, and her execution is beyond impeccable. All of the materials come laminated which means they will last forever and are indestructible. I love that the crate comes with a theme guide. I think this would be very helpful for parents and was also great for me as an SLP. It gave me ideas for the use of the resources I may not have thought of on my own. The resource guide breaks down development into six major categories: sensory, play, fine motor, cognition, gross motor, and socio/emotional. Within each category are 2-3 suggestions of how the items in your crate can facilitate development. The instructions are clear and easy to follow. There is also a reproducible parent handout/letter that as a teacher or school-based SLP, you can send home. I like this piece of the crate because I feel like caregiver/parent involvement is crucial for our young children's success.
My only challenge in receiving The Communicrate, is that it is packed with so many valuable resources, I did not have time to use them all before posting this piece. This is partly because I do not have clients currently working on literacy skills–it's not an area I focus on in my work too often. However, the crate included beautiful site words cards, a letter matching mat, and companion book suggestions which I hope to use in the future.
Overall, The Communicrate is a high-quality resource that I would recommend. It's so fantastic that I could not come up with any recommendations for improvements or modifications at this time. But don't just take it from me as a professional…subscribe and see for yourself. Or keep reading to see if you can win the upcoming August crate!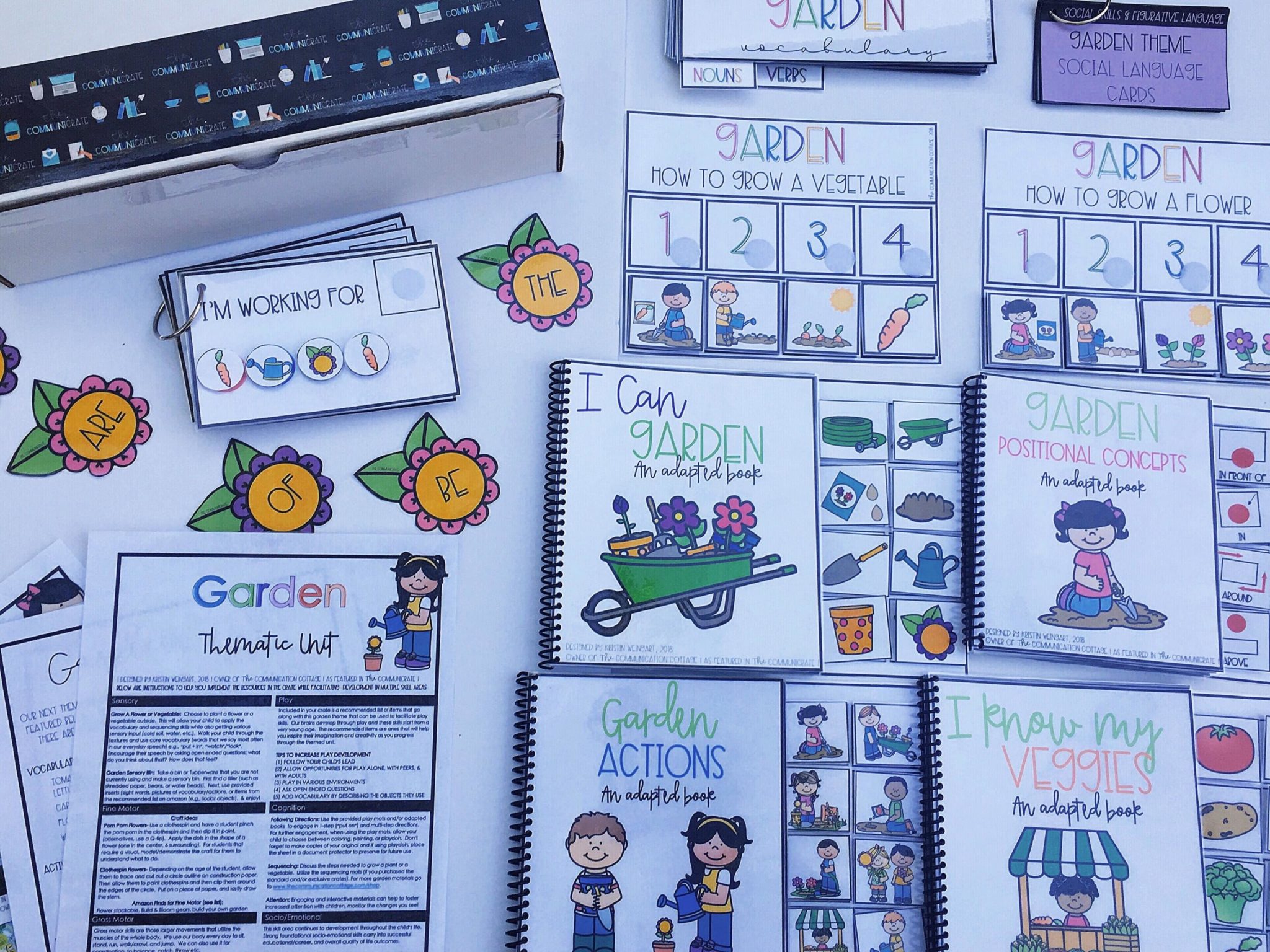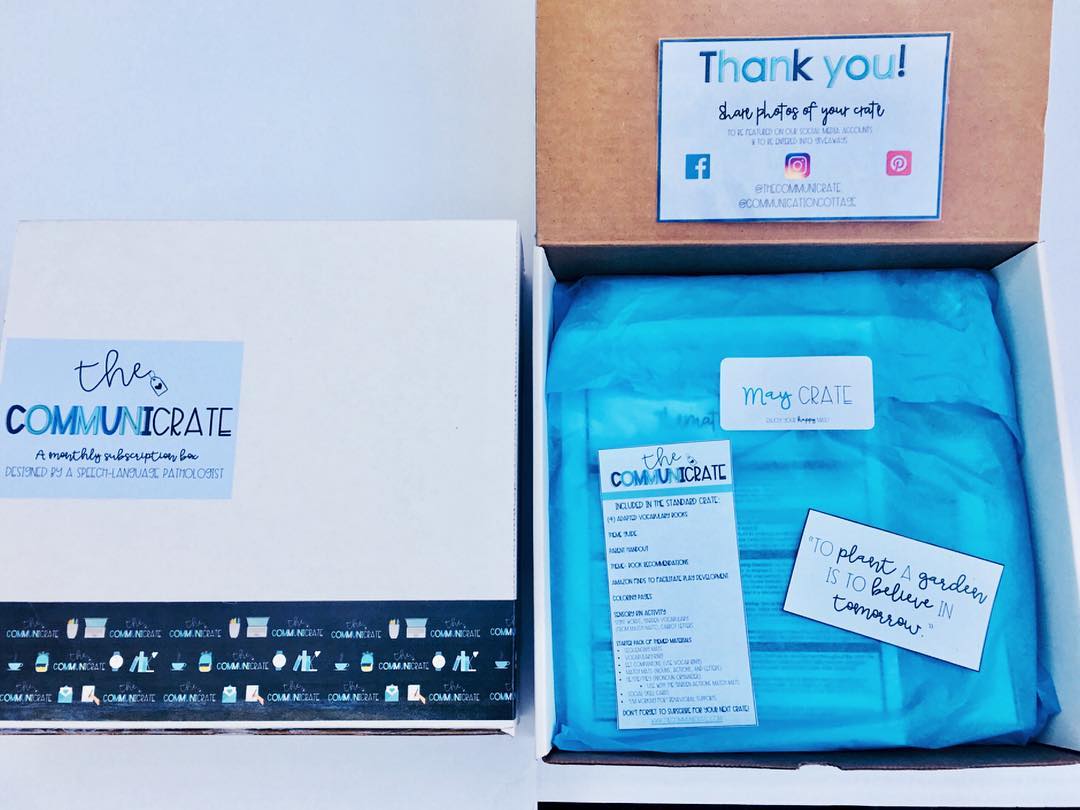 Need help with games and activities to support your child's speech and language development?
Disclosure: Kristin Weingart granted me full access to The Communicrate box at no charge upon my request. She did not solicit this review or my opinions.
One of these Communicrate boxes could be headed your way next month!
Kristin has generously offered to giveaway 1 August "back-to-school" themed box to a lucky reader and Instragram follower. In order to win you must be following both of us on Instagram so head on over now to enter! When you follow The Communicrate on Instagram you have an opportunity to vote on the monthly theme, see behind the scenes, preview materials,  read reviews from other subscribers, learn about how to use the crate in your therapy sessions or when engaging with your child and participate in giveaways like this one.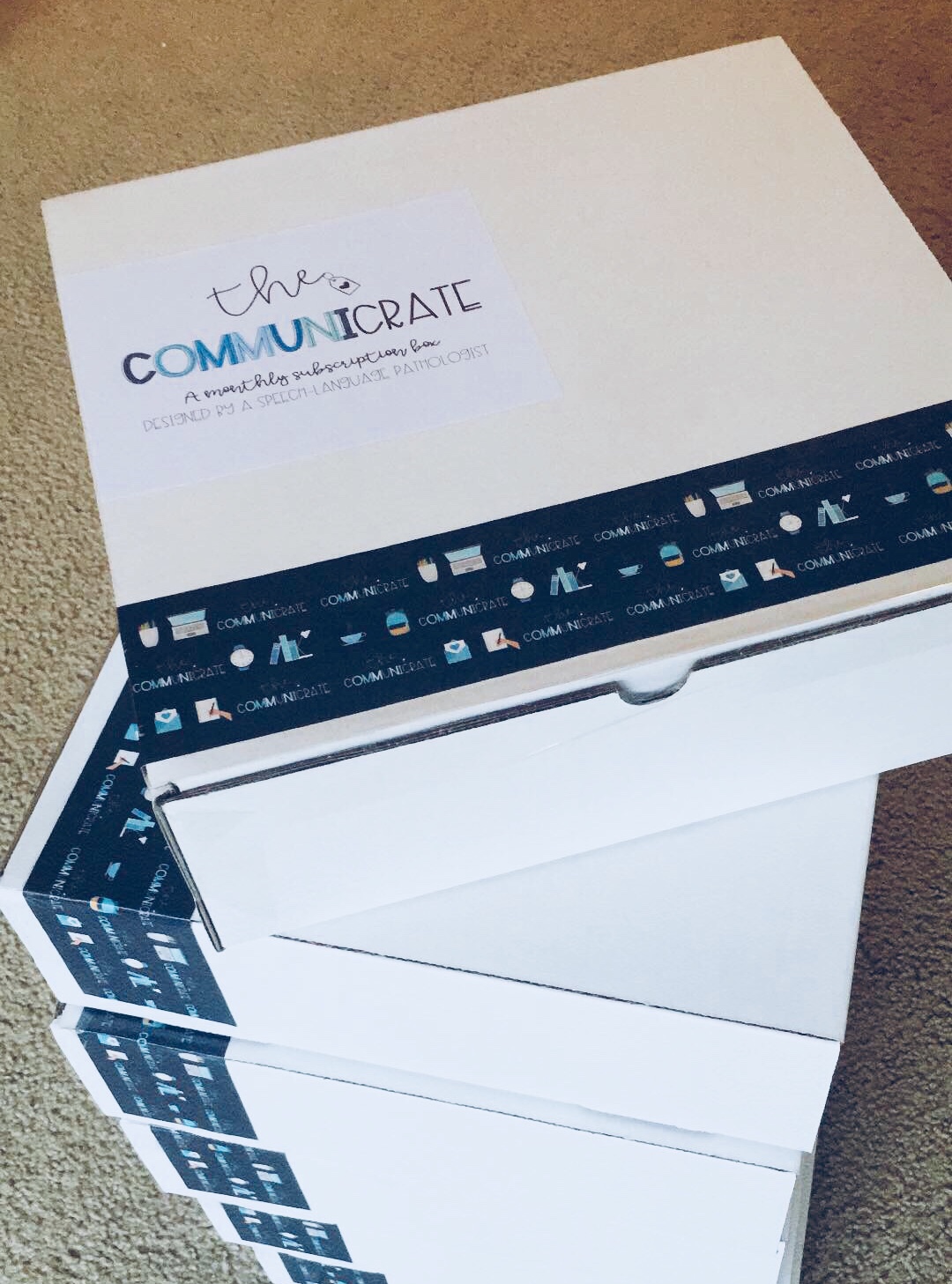 Start Playing With Purpose
Learn how to purposefully and intentionally interact with your child during play and help them increase opportunities for speech and language development with our Playing with Purpose book!