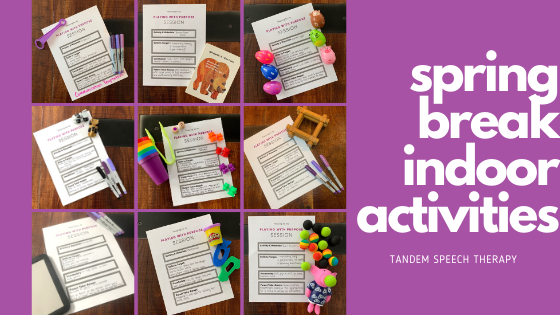 *This post was updated on 05/03/2020*
Springtime and particularly spring break play time can be a tricky time of year in terms of the weather. I know that all too well here in Austin, TX. Last week we had a day of 80-degree temperatures, followed by blustery rain, a morning or two of 34 degrees and we rounded out the week back in the 70s. If you're planning a staycation for your family over spring break and looking for some awesome indoor activities that will surely boost your children's language skills, then look no further. I'm sharing my favorites from a series of posts I have shared over on my Instagram account. And lastly, now you too can own the Playing With Purpose session planner so keep reading
My Favorite Spring Break Play Activities:
Cars
Use cars to work on following directions. This is particularly easy if your kids have a car track set. Give your child instructions on how to build the road. For example, you could say, "First get the blue ramp and connect it to the red track." If you do not have a car track set, then you can also work on following directions with the other toys and items nearby. Give directions for creating a ramp, locations to drive, and a place to make a parking lot. And if you are taking a road trip over spring break, then while you are in the car, you could play I Spy which is great for building up descriptive language.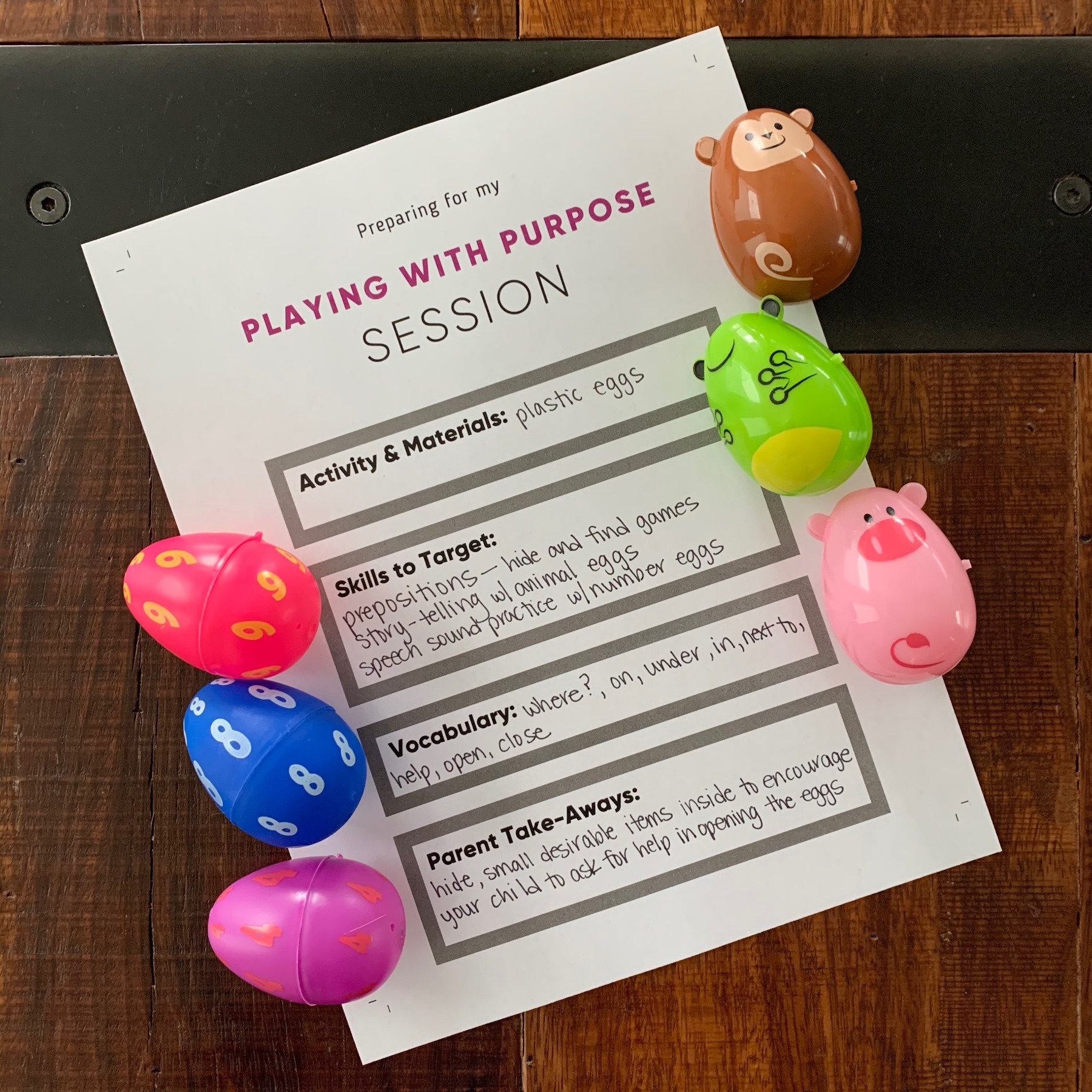 Plastic Surprise Eggs
Life pro tip: plastic eggs are not just to be used at Easter! Use your plastic eggs to work on verbal routines. Some of my favorite phrases are:
knock knock knock…open

shake shake shake…open

telling the toys hi/bye as you take them in and out of the eggs

READY SET GO!!
The plastic eggs are also great for teaching preposition words and responding to "where" questions.
Bubble Blowing
Bubbles are a fun activity to promote eye contact and joint attention in young children. Start by engaging your child in a fun bubble blowing game. Blow the bubbles once and then pause or wait. Watch for your child's anticipation of more bubbles. Sit face to face with your child so that he/she can look at you and wait for eye contact before you blow more bubbles. The eye contact is their communication. It's no different than a child using the word "bubbles" in this instance. Praise your child by saying something such as, "I like how you told me you wanted more bubbles."
Books Reading & Yoga
Pair a book with yoga. This is a great way to incorporate multi-sensory learning, which helps solidify teachings in a child's brain. In her book "Go Go Yoga For Kids: a Complete Guide to Yoga with Kids," author Sara Weis provides step-by-step lesson plans for incorporating yoga into reading family favorites. My favorite lesson is from a book I hold dear: "Brown Bear, Brown Bear." This lesson targets vocabulary (i.e., the names of the animals) as each animal in the book is paired with a yoga pose. With each animal in the book, pause and practice the pose with your child. During this practice, you will provide verbal repetitions of the animal names.
Ball Poppers
Target practice is a fun game to play with a ball popper. I use it with kids who are practicing new speech sounds, but it's perfect for almost any new skill that requires repetition. Draw a target on a piece of paper and stick it up on any door. I use 2 points in the center, 5 for the middle, and 10 in the outside ring. Then let your child use the ball popper toy to hit the target. Whatever number the ball is closest to dictates how many times your kiddo has to practice their target word or skill. I give families word lists to practice. If your child is a reader, then let them try the words on their own. If not, then provide a model.
Play Dough
Use simple shape cutters and a rolling pin to make playdough cookies. When the child has finished building their cookie, have them retell the sequence or the steps. Encourage the child to talk about what they did first, next, and last so you can build a matching cookie.
Activities with playdough are rich with vocabulary opportunities. You can highlight verbs such as roll, cut, squeeze, push, smash, open, close, and take out. You might model descriptive words for size, shape, quantity, and color.
Lincoln Logs
Lincoln Logs or any blocks can be combined with another toy set and used for symbolic play. Symbolic play is the ability to use objects, actions or ideas to represent other objects, actions, or ideas in play. For example, a child may push a block around the floor as a car or put it to his ear like a cell phone. If your child uses their Lincoln Logs to build a house, then grab some of their favorite characters or action figures and let them play in the house. You'll also be helping your child develop their pretend play skills.
My Playing With Purpose session planning document is a commonly requested addition to my work, particularly for my SLP colleagues. Well, I finally buckled down and you're able to purchase it from my Teachers Pay Teachers store.
Start Playing With Purpose
Learn how to purposefully and intentionally interact with your child during play and help them increase opportunities for speech and language development with our Playing with Purpose book!