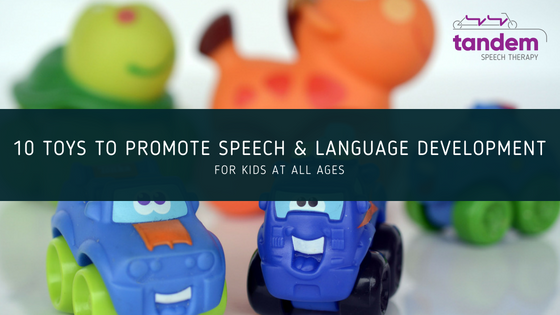 Children spend most of their time in play which helps them understand their environment and interact with people. Nothing beats toys that children can hold and share with others. Thinking of toys to buy for your children or the ones you work with? Check out these toys that are easily available in stores near you (or via these Amazon affiliate links) and also great for promoting speech and language development.
1. Activity Board (starting at 10 to 12 months)
Babies at this stage are developing their motor skills and are continuing to explore through their senses. They also start to learn cause and effect. An activity board or activity cube allows babies to manipulate and see the effect of each touch and turn. They also support each gross motor development by providing a safe and fun tool for baby to pull up on.
2. Shape Sorter (1 to 1 ½ years)
At this age, babies have increased problem solving and have learned to connect actions with objects. Suggested toys include shape sorters, stacking rings, and ball and hammer. Parents can use these for language stimulation as well by modeling action words, location words, and colors/shapes.
3. Cooking Set (1 ½ to 2 years)
Children start to engage in pretend play. With the cooking set, a child can pretend to do familiar everyday actions directed towards themselves (e.g. baby is drinking from a cup). Parents are encouraged to play with their child by naming actions they do (e.g. narrating), pretending (e.g. "Let's eat chicken, yummy!"), asking questions (e.g. "Where's the spoon?") and expanding verbal productions (e.g. "You said eat? Let's eat yummy chicken!").
4. Mr. Potato Head (2 to 2 ½ years)
This toy is great for teaching the concept of body parts and actions. The toy also encourages early pretend play like feeding Mr. Potato Head, putting it to sleep, or giving him a bath. You know he's a favorite of mine!
5. Dollhouse (2 to 3 years)
Building and fixing the dollhouse encourages varied play combinations, a skill expected of 2-3 year old children. Children at this age show varied actions and use many phrases and sentence combinations (e.g. "I put chair," "Boy get milk").
6. Doctor Set (2 to 3 years)
Children start to pretend using less-familiar events and take on more roles. A trip to the doctor is one memorable activity that you can recreate with toys. Actions done are more complex and varied (e.g. go to the doctor, get a checkup, go home) and role reversals are common (e.g. "I'm the doctor and you're the patient").
7. Blocks (3 to 4years)
Blocks are open-ended toys that will lend for imaginative play. Children can use these to make houses, farms, vehicles, and more to create scenes for their play.
8. Action Figures (3 to 4 years)
Children are now exposed to more roles. They enjoy play that involves characters they see in the community (e.g. doctor, pilot) and on TV (e.g. superheroes). They also create dialogues while playing with their action figures. Get down on the floor with your child and engage in the play, but remember to follow their lead!
9. Art Materials (4 to 5 years)
Children mainly use language to set scenes. Paint, crayons, clay, glue, and other materials can pave the way for any theme or character that the child may want to use.
10. Board Games (5 years and above)
Since children are now entering the school age, they enjoy games that will challenge and hone their thinking. Board games such as Chutes and Ladders, Jenga, Scrabble, Candyland, etc. are recommended. These games also promote good social interaction by developing skills such as turn-taking and reciprocal conversations.
Start Playing With Purpose
Learn how to purposefully and intentionally interact with your child during play and help them increase opportunities for speech and language development with our Playing with Purpose book!